MaximMag is a quality NdFeB/neodymium slender rod magnets manufacturer in Ningbo of China, by focusing on improving clients' experience of our service MaximMag is aiming to be a reliable brandname in magnetic industry.


Product Description

1.Shapes
neodymium slender rod magnets;


2. Size
Customized size: according to your requirements/drawings.
Tolerance: +/-0.05mm.

3. Grade
N35, residual magnetism 11.7mT-12.2mT;
4. Coatings
Ni, Ni-Cu-Ni, Zn, Tin, Epoxy, Ni-AG, Ni-Au, Passivation, Parylene, Everlube, etc.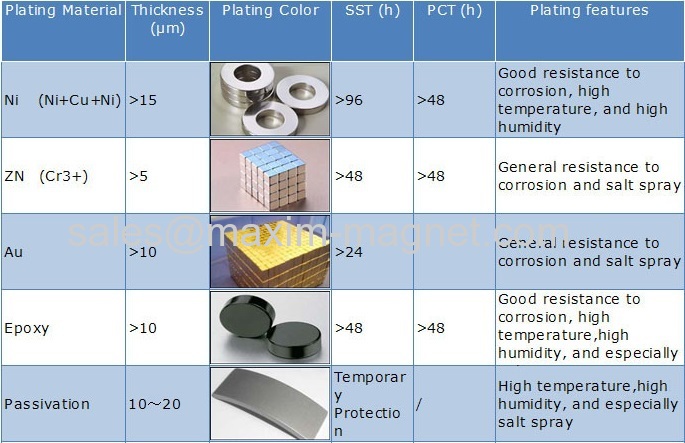 5. Production Time
2-4 weeks roughly.

6. Certification and Quality Control
ISO9001: 2008, strict quality control ensuring no magnets with unexpected defections;

7. Applications
Magnetic alarm systems to protect shoplifts in Liberary, supermarkets, shopping mall etc.

8. Directions of Magnetization: Thickness Magnetized through 12mm;
9. MaximMAG Features:
a. The magnet grades in N series are available from N35 to N52 grade (redisual magnetism from 11.7KGs to 14.8KGs);
b. Competitive prices;
c. Reasonable delivery time;
d. Good in-house inspection, ISO certified;
e. Free samples available;
f. Experienced sales staff who speaks good English, offering quick and good service.
All our magnets are customized made, so your kindly email us following information will be highly appreciated.
1. Dimensions, drawing is preferrable.
2. Magnet grade you're looking for;
3. Coating of the magnets: NiCuNi, Epoxy, Zinc, Passivation etc.
4. Magnetized direction;
5. Quantity;
6. Constant working temperature;
7. Your information on how you use magnets in your applications will always be appreciated.