Material: Neodymium magnetic ring (Also named NdFeB, NIB, Motor magnets);
Specification: Outer Diameter * inner diameter * Thickness.
Grade: N52;
Coating: 3 Layer Ni-Cu-Ni;
Magnetization: Axially magnetized through thickness;
Application: Water filteration/oil optimizer, Automobile, Industrial application.
Your detailed request information will facilitate our quick and acurate offerings:
1. Magnet size, for ring magnets we require just outer diameter, inner diameter and thickness;
2. Magnet grade. We make standard magnetic grades as well as special magnetic property to customers' requirements;
3. Coating. Regular coatings can be find in MaximMAG certainly, such as Ni-Cu-Ni, Zn, Epoxy, Pasivate, NiCuNi+Cr etc;
4. Magnetization. Usually customers require magnetized through thickness;
5. Quantity.
At last, your information on how you use magnets in your applications will always be appreciated, and we're giving rebates if feedback photos how the magnets used.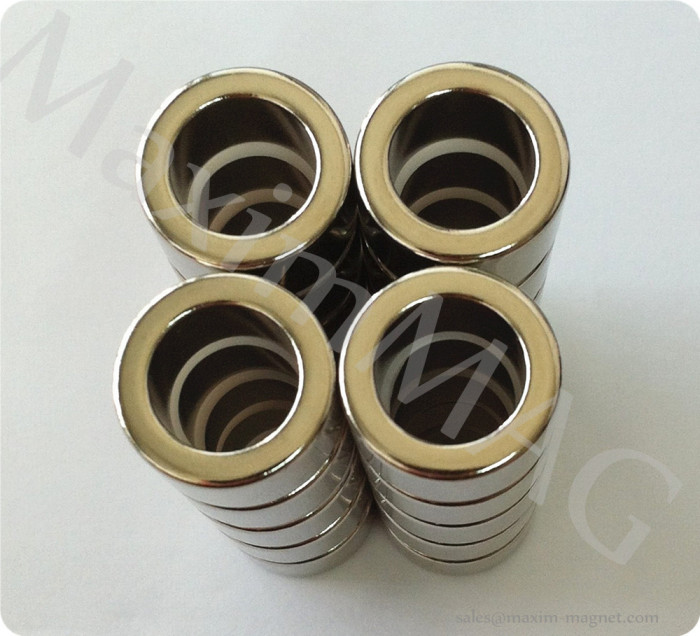 Packaging & Shipping
For ring magnets we do pack them into small white boxes and then into a big carton. Certainly, magnetism isolation is implemented when airshipping. We also do tailor packaging for customers' special requirments, such as pack them into the plastic tubes in order to better facilitate automatic gun shooting the magnets into the production line.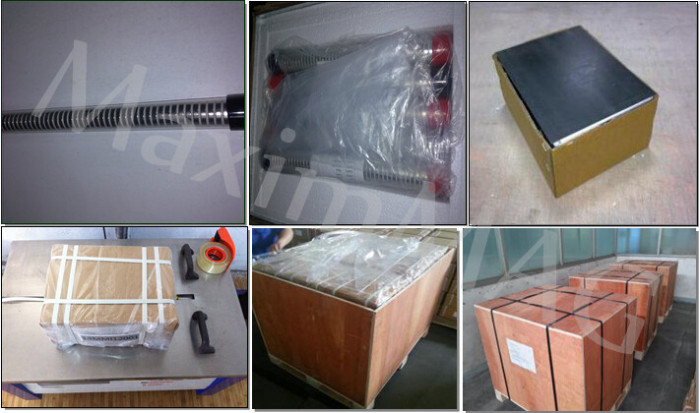 Our Services
a. From 11.7 KGs to 14.8 KGs of residual magnetism;
b. The diameter from 1mm to 240mm is produced in MaximMAG;
c. Besides standard magnetic grades we make customized magnetic property for customers' application;
d. Experienced sales staff of good english offering quick and good services;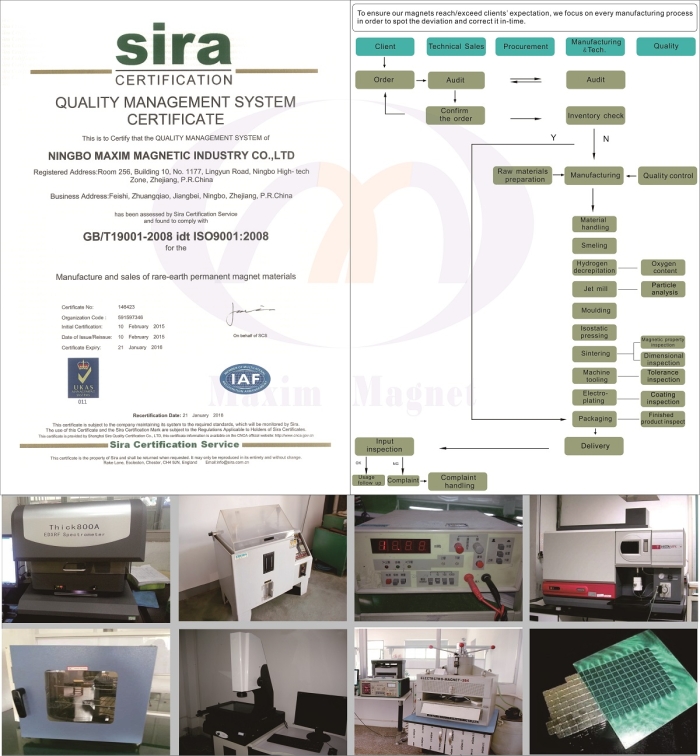 Company Information
MaximMAG is neither that kind of so called leading factory nor that kind of factory make all magnetic materials (which is not possible at all), we specialize in manufacturing sintered Neodymium magnets (also named NdFeB, NIB, Rare earth permanent magnets) and some magnetic assemblies of suitable prices for the world industrial markets.
Customers' satisfaction is always our pursuit, we're always ready to provide consulting service to those who need assists on better understanding magnetic materials. MaximMAG believes her magnets are not simply the products but a conveyor of her good services to customers.